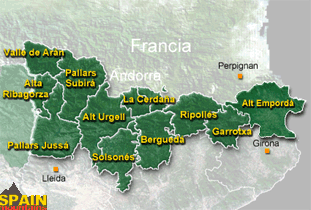 Enduro Pyrenees (Andorra,Cerdanya,Pallars Sobira,Alt Urgell,Val D'Aran) Offroad tours for enduro bikes (we rent motorcycles if you wish so or you can bring your own bike) accross the Pyrenees from North to South and from East to West. by more than 2000 m high mountain tracks combining forest trails and secondary roads across the most beautiful scenery of spanish Pyrenees.Circular route starting and finishing from the cottage or hotel.
Price per person:  prices vary depending on the number of people,dates,number of days, type of accommodation to choose Can Pascuet or Hotel Dom and motorcycle rent or own, please contact us to make a personal budget .
All prices include: motorcycle enduro (except if you had rather to ride your own motorcycle), guided tours, half-board accommodation in cottage  or hotel in shared rooms , motorbike insurance.
Excluding: gasoline, lunch, drinks not included in menus,accident insurance
Optional: rental full equipment (helmet, boots, safety protectors gear, etc.) 20 € paid only once person
for more information on dates, availability, etc. please contact us.