4 days with enduro motorcycle rental or own motorcycle flowing through the best of the Pyrenees departing from Barcelona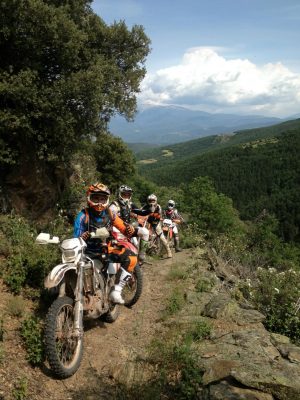 Program:
day: we will leave Barcelona by mountain to the accommodation that be our base housing and exits in the coming days. Approximately 150 kms. (70% offroad)
day: 

we expect a 200 kms loop. spectacular by the culd (100% offroad)

day: here we will head towards the Vall D'Aran, not before passing through forest tracks at 2000 m. of altitude, the return to Can Pascuet will be by mountain roads to enjoy its views and curves.Approximately 200 kms (60% offroad)
day: last day in the Pyrenees. We will go down after a good breakfast to Barcelona trails in different route of the first day. Approximately 150 kms. (70% offroad)
PRICE: Please ask varies according to number of people, with or without bike rental, etc.
NOT INCLUDED: petrol, midday meal, drinks not included in menus, secure accident.
For more information on dates,price, availability, etc. please contact us.